I've had handmade gifts on my mind……..Shopping for holiday gifts is more fun when you can buy handmade and you know it's PERFECT for the person you're buying it for.  
While at the handmade market, I bought this pillow from one of our vendors, Celina Mancurti.  I fell in love with her screen prints.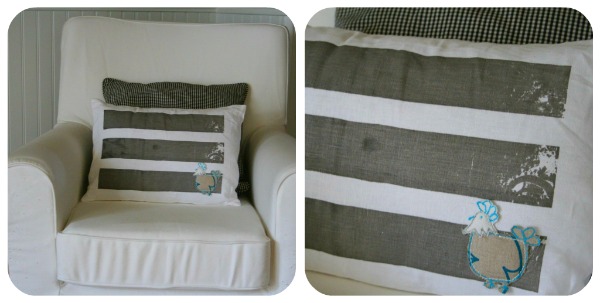 I had intended on giving this pillow away as a gift……but had decided to keep it by the time I got it back to my hotel room.  I love it!  Can you blame me?  Just look at it!  It's perfect for my chair. I also love that buying it directly from the artist, knowing she made it, designed it and probably loved it as much as I did. 
Celina and her husband are an adorable couple from Argentina who have built a their business with beautiful linen items.  I wanted one of everything.  I am happy to know they have an etsy shop!  Her style is clean, simple and perfect!  Her style makes me happy!
"Celina Mancurti is an Argentinean textile designer living in the U.S.A. After having worked in the textile and fashion industry for more than 10 years she left the industry world to follow her passion for textiles and to work on her own home collection that reflects her lifestyle. Her story is told with her beloved screen printing, the unique designs and eco-friendly fabrics and notions she uses"