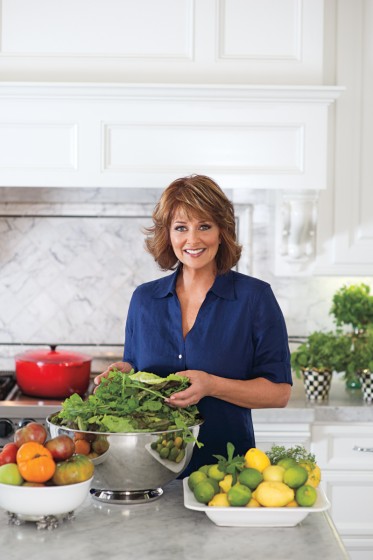 As an accomplished author, television personality, entrepreneur, actress, motivational speaker, blogger, wife, mother, and grandmother, Cristina Ferrare dishes out yet one more curtain call: hosting her own show for OWN: the Oprah Winfrey Network. Cristina Ferrare's Big Bowl of Love features celebrity guests along with members of Cristina's family and friends who serve up great ideas for all kinds of real-life situations. Cristina recently joined the "Oprah family" as a regular contributor, featuring Oprah's favorite meals, and hosting a series of web cooking classes for Oprah.com—preparing delicious meals for families on tight budgets and little time.
Cristina is a New York Times bestselling author of Okay, So I Don't Have a Headache, Cristina Ferrare's Family Entertainment, and Cristina Ferrare Style. Her most recent book, Realistically Ever After, is a humorous view of finding happiness when he's not Prince Charming, you're not Snow White, and life is not a fairytale. The success of Cristina's books attest to her expertise in the areas of women's health and well being, culinary arts, and stylistic design. Her books also reflect her great zest for life and sense of humor. Cristina has just completed her fifth book, a cookbook due out in April, 2011 entitled A Big Bowl of Love.
In the early 80's, Cristina co-hosted AM Los Angeles, which was the #1 rated morning television show during her five-year tenure. Among her many TV appearances, she has hosted her own shows:  Cristina and Friends and a two-hour live show from Universal Studios called Home and Family. She has substituted as a co-host on Good Morning America and co-hosted numerous times with Regis Philbin on Live with Regis and Kathie Lee. Her primetime series for CBS, Shame on You, was one of the first magazine format shows that featured consumer fraud and awareness. It set the stage for other prime time magazine formats that followed. For NBC, she co-hosted Men are from Mars, Women are from Venus with Dr. Drew Pinsky. At one time, Cristina had three ABC shows on the air at the same time: AM Los Angeles, The Home Show, and the primetime series Incredible Sunday. In feature films, she starred opposite David Niven in The Impossible Years and the critically acclaimed J.W. Coop with Oscar winner, Cliff Robertson.
In 2006, Cristina, along with partners Brian Thorson and Tim Hosier, designed a line of home accessories that sells domestically and abroad. "Ferrare With Company" products include picture frames, napkin rings, lamps, scented candles, candle sticks, table accessories, and show-stopping, one-of-a-kind mirrors and chandeliers. Swarovski crystals, semi-precious stones, pearls, shells, and metals are placed by hand, piece-by-piece, onto each object and are true works of art. The pieces are sought after by top interior designers around the country and sold to over 60 stores, including Bergdorf Goodman and Barneys. The company has expanded its business to meet the needs of clients in France, Turkey, Istanbul, Dubai, and Saudi Arabia.
Cristina is a sought-after speaker and has spoken at various conventions around the country including the 2004 "The Women's Conference" where she monitored a session about women's health and sexual well being. In 2007 she hosted, along with Chef Art Smith, a session on cooking for 300 women! She sits on the board of directors for "The Women's Conference," headed by California's First Lady Maria Shriver. Once a year, over 14,000 women attend the conference for a day of transformation and empowerment. The Women's Conference encourages women to be their own "Architect of Change" for a better life–for themselves, their families, and their community.
Cristina lives in Los Angeles with her husband, entertainment executive Tony Thomopoulos. They have a blended family of seven children and four grandchildren.
Contact:
Web: www.oprah.com/food/Meet-Cristina-Ferrare_2
Twitter: @Cristinacooks