Heading into the holiday season, we are suddenly building and marking off our gift giving list.  We hope you'll fill  some of those stockings with handmade gifts either from yourself or from handmade shop owners. 
While working at the conference, we had the help of many volunteers.  We couldn't have pulled off such a fabulous event without them.  It's always fun to get to know them and what creative talents they have.  I met Sue while working the Registration desk.  We were so busy, I didn't get a chance to ask her what she liked to create. 
Once home, she contacted me about the Creative Holiday Gift Guide I offer on Today's Creative Blog.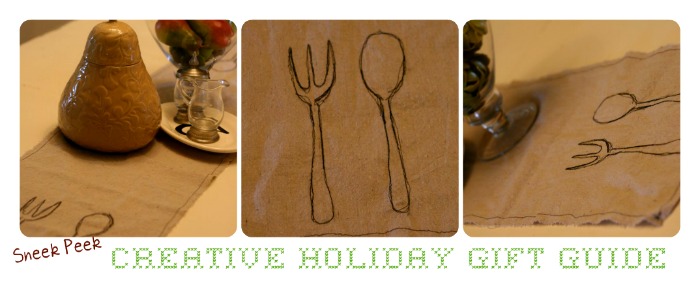 I about fell over when I saw her table runners.  I quickly ordered 2.  I LOVE them, and I have them both on my Thanksgiving table as I type.  I am in love with her whimsical sketched stitching. 
When I received her package, she also added one of her canvas ribbons for gift wrapping. 
What a great idea!  I may wrap my own gift with this so I can keep it.   If you'd like to see more of her talents, you can visit her Etsy shop, Raccoon Studios.
These kinds of gifts are always so much more exciting than something bought at a big box department store.
So, do you make holiday gifts?  If so, what?  We'd love to hear.
Written by Kim Demmon, Today's Creative Blog